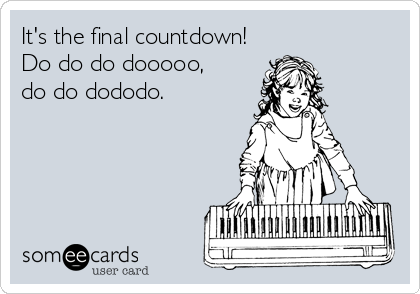 This is it - 5 days to go! Here is my final update. :)
The dress:
I have my fourth and final wedding fitting tonight and I will pick up the dress on the way to the hotel on Saturday. At my fitting last week, the dress was nearly perfect but needed a few more tweaks. When I saw it on me, fitted correctly, it was amazing; I can't wait for DC to see it!
Marriage license
: Getting our marriage license, which truly I almost forgot about(!!), was so easy and kinda surreal. Just a tip, don't forget this, kinda important. ;)
These final 2 weeks
: To be honest, these final 2 weeks have been the hardest during all of the planning - even over the major craziness and my anxious feelings surrounding the venue/"vendor" search when we first got engaged last year. All of the final documents (seating chart, meal sections, forms, etc.) were due at the venue by 9/12. We had to finalize our ceremony, vows, music selection, etc. etc. etc. We had our final walk through which stirred up all sorts of "remember this"/"can't forget that" thoughts. My Type-A control freak is totally coming out and I feel quite torn on how to feel for these final weeks of planning & our engagement. Last week, part me just wanted the wedding day to come ASAP so I could be "done" with all the planning, but then I'd feel sad thinking that this was all coming to an end. I also didn't want to wish the day away. Any other brides feel conflicted during this time? Ultimately, all the people around me, have been SO helpful in lending a hand, keeping me sane, and drinking wine with me! :)
Wedding weekend timeline: The rehearsal at the venue is Saturday midday, then we have the rehearsal dinner in a nearby town that night. Sunday morning, the wedding day, will start early as the hair and makeup team will be at the bridal suite at 8am! A first look at 3pm, vows at 5, and the party officially kicks off at 6:30.
Thanks for following along my
wedding
planning and the
#cusedeucegettingmarried
feed on Instagram the past year! Our wedding will be over at #meetthecovals and our honeymoon tagged #alohacovals. Speaking of honeymoon, while I am gone, I will have several guest posts from Boston bloggers sharing where they went on their honeymoons with tips, photos & more so be sure to check back regularly over the next couple weeks. And of course, after we're back, there will be so much to share! xoxo